Knorr-Bremse – an award-winning employer
For the Knorr-Bremse Group, satisfied and motivated employees are valuable assets who make a decisive contribution to corporate performance. Knorr-Bremse is aware that employees only go the extra mile when they know they can count on a fair, reliable and attractive employer – an employer who actively supports them in pursuing their professional and personal goals.
Knorr-Bremse sets itself unusually high standards as an employer. And the Company's excellence in human resources has been recognized with multiple employer awards. We are proud to have received positive ratings from a variety of renowned institutions.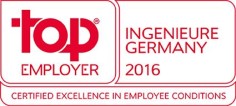 The Top Employers Institute is an independent certification organization which works internationally to recognize companies who offer excellent working conditions and make a significant contribution to the personal and professional development of their employees. Its evaluation criteria include Talent Strategy, Workforce Planning, On-boarding, Learning & Development, Performance Management, Leadership Development, Career & Succession Management, Compensation & Benefits, and Culture. Companies must undergo a multi-stage research and audit process and fulfil the strict quality standards of the evaluation to be awarded the quality label.
In February 2016 Knorr-Bremse was named Top Employer for Engineers in Germany for 2016. Through this prestigious award, the Top Employers Institute recognizes the excellence of Knorr-Bremse's HR policies and leadership, which have resulted in a strong focus on employee needs and above-average employment practices.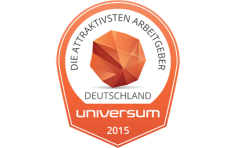 Universum is one of the world's leading consulting firms and a pioneer in employer branding. Each year they conduct the Universum Student Survey, a survey of more than 700,000 students and young professionals in almost 40 countries which looks at their employer preferences, career expectations and communication choices. The results of the survey not only form the basis of the Universum employer ranking, but also provide the foundation for studies analyzing what drives employer attractiveness. Part of the Universum Student Survey involves finding out which employers in Germany are the most attractive. In the 2015 survey, more than 30,000 students across Germany – of whom some 6,000 were engineering students – were asked about their perceptions of employers, employer attractiveness, their long-term career goals and other topics related to job and career.
For the third time in a row, the engineering students ranked Knorr-Bremse among the 100 most popular employers in Germany.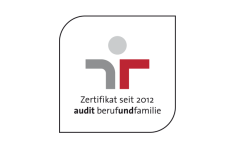 In Germany the Hertie Foundation's "berufundfamilie" (career and family) audit is a recognized seal of quality for family-friendly HR policies.
In 2012 Knorr-Bremse's Munich location was certified with top marks for its excellent working conditions and named a "Family-friendly Company" for the first time. In March 2016 it received the certification again. The certificate shows that Knorr-Bremse is making a targeted effort to help its employees balance their careers and private lives. Specific programs allow employees to take advantage of flexible working hours and telecommuting, for example, and provide support when a family member requires care. In keeping with certification requirements, Knorr-Bremse is continuously expanding its initiatives and programs and will be audited again in three years.